May 2013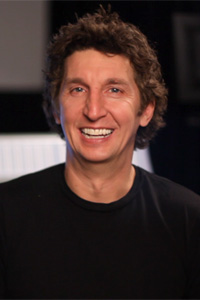 Craig Henighan has racked up a formidable list of film credits over the last 18 years, as a sound designer, supervising sound editor, and sound re-recording mixer. From conjuring up the weighty impact of robotic punches to crafting textures of dark psychological dissonance, his talents and fine ear have made him one of Hollywood's A-list sonic illusionists. We were thrilled to discover that Craig has been using the Lowender subharmonic synthesizer in his workflow for years, and took the opportunity to ask him a few questions about it.
Q: How long have you been using the Lowender?
I've been using Lowender pretty much on every project since around 2007. I used to use reFuse back in the old OS 8 and 9 days for Reason, and when I got into Pluggo, I happened upon Lowender.
Q: How do you incorporate the Lowender in your workflow?
It's part of my template, running on one or two aux's depending on the project.
Q: So you set up multiple instances of Lowender for mixing? Could you elaborate on that technique a bit more?
I like to have a couple settings, one is for the real low stuff. I start with your "Thunder" preset and boost the drive a touch. So that instance is set to about 25Hz - 50Hz, and then for the other I'll dial up the 36Hz - 56Hz range. The real low one isn't all that useful for most projects, but there's been the odd one where you put some fun stuff through the ultra lows, more to feel than to hear obviously. I generally run the blender at the full bass setting.
Q: What are some of the films that you've used Lowender on?
Black Swan, Real Steel, Moonrise Kingdom, The Grey, The A-Team, Snow White and the Huntsman, Chasing Mavericks.
Q: Is there a specific sound cue that you remember Lowender working particularly well to enhance?
Pretty much all the fights in Real Steel have Lowender all over them. With the automation you can really control the punchiness of the plug-in. When using the outboard sub synths, you sometimes can't be as precise with the energy created. Lowender helps maintain a more precise use of subharmonic synth frequencies.
It also worked quite well on a scene in Snow White and the Huntsman, where we built from a quiet bit into a low end "subsonic" wave. Lowender helped me build a very cool sounding transition.
To learn more about Craig's creative process, check out these Soundworks Collection videos.