Mulligan 1.5: More Help, More Commands, and an iPhone Controller
Mar 22, 2023
We are excited to announce the release of Mulligan 1.5, the latest version of our hands-on controller app for Pro Tools. We have been hard at work to bring you even more powerful features that make it easier to control your plugins and create music. This is a free update for all existing users.
There are dozens of improvements in this version – for a full list see the Release Notes. Here are a few of the highlights:
Expanded Help: Get Up to Speed Quickly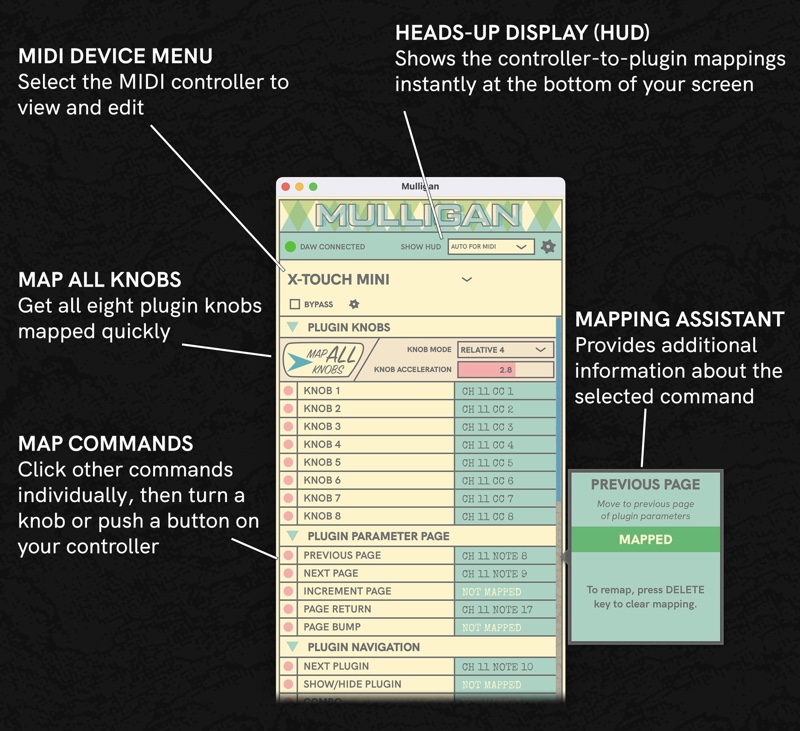 An in-app Visual Guide points out key features of the app to get you up and running fast. The guide appears automatically the first time you launch Mulligan, and it can be recalled using the Learn menu at any point.
Access Parameter Pages Quickly and Easily
Two new commands have been added to the Plugin Parameter Page section, which make it quicker and more flexible to access the parameter pages of your plugin's control map. They are described here in brief, but for full details please see the Mulligan Manual.
Page Bump
Temporarily access the next highest parameter page of a plugin mapping, just by pushing down on a plugin knob. It's like adding another bank of virtual knobs to your controller!
Page Return
When doing custom plugin mapping, Pro Tools will automatically reset to parameter page #1 whenever entering or leaving plugin Learn mode. It can feel like Pro Tools is constantly losing your place in the parameter pages. The new Page Return command acts like your bookmark, saving your place and hopping you back to whichever parameter page you were on before entering Learn mode.
New Starter Pack Makes Your Phone Into a Transport Controller
The Mulligan download now includes a compact transport-only TouchOSC layout for iPhones. With this on your phone, you now have a compact remote control for the Pro Tools transport that fits in your pocket. Connect wirelessly to operate Pro Tools from across the room!