Introducing: Mulligan
Nov 16, 2021
We are so excited to share our brand new creation: Mulligan, a standalone app for macOS that unlocks any MIDI controller for hands-on plugin control in Pro Tools.
Mulligan is available now for a special introductory price of $59, only through Monday, November 29.
No proprietary hardware is required to enable plugin control with Mulligan. At last, you can use any MIDI box with knobs to control any plugin in Pro Tools.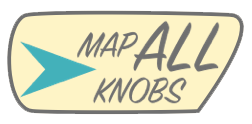 With our exclusive Map All Knobs button, it takes only seconds to connect a MIDI controller to Mulligan and map a bank of eight knobs for plugin control.
To help you remember which knobs are mapped to which plugin parameters, Mulligan's Heads-Up Display (HUD) will pop up in a floating window along the bottom of the screen. The HUD shows the current plugin's name, and the eight mapped parameters currently under knob control. And it can be set to automatically show/hide, to keep out of the way unless you're actively using your MIDI controller.

In addition to enabling plugin control, Mulligan also puts transport control at your fingertips, making play, stop, record, and other functions all assignable to MIDI buttons. A combined stop/play toggle button is included, to accommodate MIDI controllers that might be short on free buttons to assign to transport functions.
You didn't get into engineering just to stare at a screen and click a mouse. Mulligan lets you break through the interface barrier and start playing your plugins like the artist you are. So stop clicking, and start mixing…with Mulligan.