Rocktober Giveaway: Lowender Shirts!
Oct 8, 2018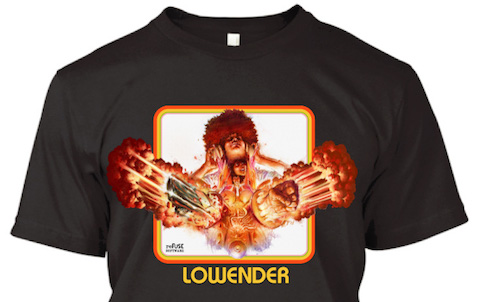 For the month of October, if you buy a Lowender license, we will send you a free Lowender t-shirt! Available while supplies last.
Our idea for this t-shirt design was to create an action montage, retro Atari style, depicting elements from the history and practice of subharmonic synthesis. See the photo below - yes, that's a car and a fist exploding out of double kick drums! We commissioned original artwork from renowned illustrator Lukas Ketner, and then worked with a local shop to print the design on a soft cotton Bella+Canvas crew neck.
To get your shirt:
After ordering Lowender, forward the email receipt from Paypal to shirt@refusesoftware.com. Please also add these two bits of info:
Tell us your preference of t-shirt size (men's S, M, L, XL, or 2XL)
Confirm your shipping address
Shirts will ship at the end of October. We will pay for shipping to most places, but if you live somewhere with insanely high delivery costs, we reserve the right to negotiate with you about that. Some assembly required. All rights reserved. Do not taunt the Lowender t-shirt.
Thank you for your support!